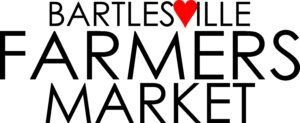 The Bartlesville Area Farmers Market will start its 16th season in 2023 and will run from May 6th through October 14th.
The Market is the place to obtain fresh local produce and crafts, hear free live music, see friends, connect with neighbors, and enjoy the beauty of Bartlesville. The Market provides a great outlet for local vendors to sell their products, helping to better the quality of life for these dedicated individuals.
The Bartlesville Area Farmers Market is registered with the Oklahoma Department of Agriculture, Food and Forestry that meets all license requirements for vegetable production. Live plant sales are licensed by the Department of Agriculture. Other vendors, such as baked goods and other food, must meet Oklahoma Department of Health requirements.
The Bartlesville Area Farmers Market is supported by memberships, sponsorships, grants, donations, and vendor fees.
The Bartlesville Area Farmers Market Association is a 501(c)(4) non-profit corporation.
The Board of Directors is elected at the annual meeting and consists of a president, vice-president, secretary, treasurer, public relations, and one or more at large members.
Click here to view the BAFMA Bylaws
2023 Board Members:
President – Hunter Grimes
Co-Vice Presidents – David Payne & Samantha Dearman
Market Manager – Jeff Wine
Assistant Manager – David Payne
Secretary – Melissa Turner
Treasurer – Jeff Wine
SNAP Coordinator – David Payne
Social Media – Mary Wine & Samantha Dearman
Website – Travis Wine
Members At Large – Deborah Langley, Ed Mitchell, Vickie Packard & Misty Eighmy
Volunteers – Linda Boudreaux, Sean Brong, Travis Wine, Josiah Wine & Caleb Wine
History of Market
The idea for a local farmers' market was born when members of Sustainability Nowata Osage Washington (SNOW) recognized that most of our area's food came from far away and depended on cheap fossil fuels. Should fuel prices escalate sufficiently, long distance shipment of food might not be feasible. Or how about a prolonged drought in California's Imperial Valley or other circumstances beyond local control?
The Farmers Market was founded to improve our local food security and to strengthen our local economy. As added benefits, local food is fresher and more varied than commercial mass-produced varieties, and customers can get to know the people who produce their food.
How do you start a farmers' market? With a lot of help–in the beginning, from the Buy Fresh Buy Local network. Founders attended many meetings, and gained lots of information about legalities, insurance, and operational guidelines. The network shared lists of names of potential vendors, which were divided up and called.
Bylaws and Vendor Guidelines were developed and adopted (elsewhere on this site) by the board members.
The Chamber of Commerce offered Frank Phillips Park as a downtown site for the market. This has been a good location for the Market, with ample street parking, some shade and seating, paved walking areas, and a raised stage area with electricity for a band.
The Market joined the Chamber, obtained a business license, and later a sign permit from the city of Bartlesville. The Market has received grants from the OK Dept. of Agriculture, Food and Forestry, and local sponsorships.
The Market has offered workshops for potential vendors on how to grow and market their products.